The Pulsar system is rated as one of the worlds leading laser systems and is clinically proven to offer you effective, virtually pain free, quicker and longer lasting results in Permanent Hair Reduction and Photo Skin Rejuvenation.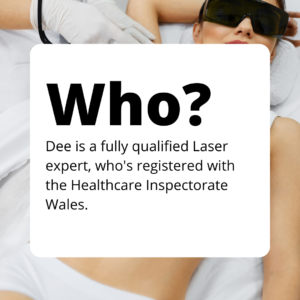 Who does the Laser Hair Removal and Photo-rejuvenation?
Dee is our Laser expert.
Dee is fully qualified and registered with the Healthcare Inspectorate Wales.
Who are they?
Healthcare Inspectorate Wales is the independent inspectorate and regulator of healthcare in Wales. They inspect NHS services, and regulate independent healthcare providers against a range of standards, policies, guidance and regulations. You must meet a certain standard to be registered.
What does this all mean?
You can trust you are in safe hands when coming to us for your Laser.